Disclaimer: This post is not meant to be flippant about the very real, very serious consequences of the coronavirus. We're living in unprecedented times here, but my hope is that we can all be a little more empathetic towards one another. I also recognize that I'm incredibly privileged to be where I am and have what I have. I hope everyone stays safe and healthy; in times like these, online communities might be our best bet to stay connected and supported.
The last few weeks has seen the entire world thrown into chaos, uncertainty, and rising panic, thanks to the coronavirus. As of two days ago, my entire company is now globally having everyone who can do so work remotely. This has led to a whole spectrum of reactions, from mere shrugs (the introverts and hermits) to barely contained panic and worry (the extroverts, small-talk lovers, and likely people with shitty home internet). It's been interesting to see how people have responded to the situation and several internal work groups have spun up as a means to stay connected, including a notable one where people share their sad WFH meals.
If I'm being honest, I can't say that I necessarily relate to the people in that group. I'm someone who has to eat proper food during meal times, even if that means taking an extra 15-30 minutes to make it or procure it from elsewhere. So seeing my coworkers post about peanut butter, saltine crackers, or cereal with no milk (that person legit asked if water would be okay as a substitute 😭) has been eye-opening for me.
In the spirit of helping people eat (at least a little) better, I've come up with some ideas on how to make a sad WFH lunch/meal situation a little less sad. Hopefully these are all easy enough for people to try out for their next meal.
1. Make carbs your friends.
Sure, this may not be for everyone, particularly if you're watching your diet or have health reasons to eat low-carb. But if you don't have these concerns, carbs are the easiest, fastest way to get something filling in your tummy. Rice, beans, and bread are all good to have on hand. But if you're short on time, noodles are fantastic. Instant noodles might be the no-brainer option, but might I recommend soba noodles as an alternative? They cook really fast, are much healthier than instant ramen, and you can eat them dry or in a soup.
2. Spice things up.
I've been cooking for myself since I was 19, most of which was trial and error. But in the years of doing so, I've found that the biggest trick to taking food to the next level is to add spices and seasonings. Black pepper is the easiest one to incorporate, as you can literally add it to anything. But some other ones I love are basil, oregano, paprika, garlic powder, furikake, and shichimi togarashi. The last two are common Japanese seasonings that are great on rice, noodles, and surprisingly, avocado.
3. Add heat. Literally.
When our ancestors discovered fire, not only did it change the course of humanity for good, it also changed the way we ATE for good. If you toast/bake/stir-fry/sear food, it's almost guaranteed to taste better. I once had a meal that consisted of nothing but leftover rice and tofu. I can stomach cold soft tofu, but the medium firm kind just doesn't do it. So I decided to pan fry them up with a bit of oil until they developed a nice thin crust on the outside. Dipped in some soy sauce, it was delicious and helped tide me over until dinner time. To the dude who posted about his four cans of spam— I would encourage you to pan fry some slices up. Eaten with rice (and if available, roasted seaweed), and you basically have a deconstructed spam musubi.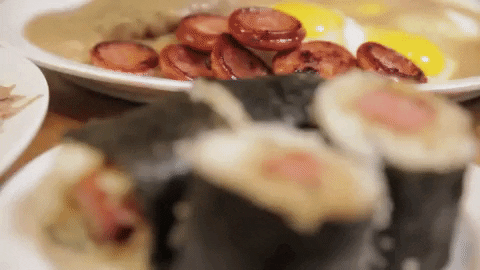 If you regularly cook or make food for yourself, these things may sound laughably basic. But who knows? Maybe this would inspire someone else to put in a little more effort and get a way better meal out of it.
Here's to eating better at home amidst all the craziness happening outside. Stay safe everyone!